<![if !vml]>

<![endif]>
Newsletter – September 2010
<![if !vml]>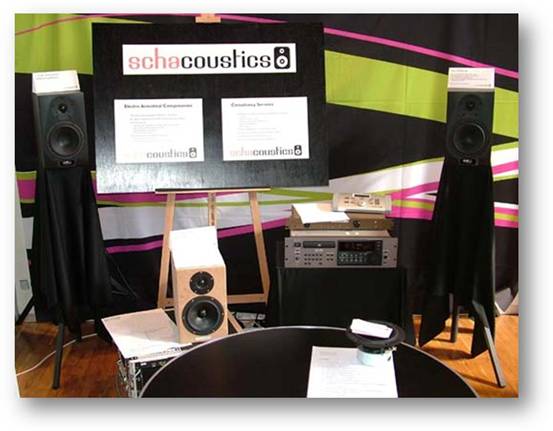 <![endif]>
Welcome to this latest edition of the schacoustics aps newsletter. You haven't heard from us for a while so a lot of exciting things have happened in the meantime.
---
EUSIPCO 2010
A few days ago more than 500 DSP-experts met in Aalborg, Denmark for this year's European Signal Processing Conference. The one week conference taking place in Aalborg Congress and Culture Centre was organized by the European Association for Signal Processing.

Owner of schacoustics aps Mr. Jens Schönemann-Paul participated in the conference as well as the exhibition in connection to the conference area. The company's display was a part of a joint promotion of Danish electro acoustics on the initiative by the organization Danish Sound Technology Network. A few Danish companies and universities attended including one of our main customers Bang & Olufsen Automotive showing the state-of-the-art sound system in an Audi A8.

As a part of the exhibition schacoustics showed the new studio monitor Icon DT-6Aair including the wireless AirCon remote control for the first time in Denmark. During the week we got plenty of positive feedback on the performance from the new loudspeaker system and a lot of good talks with people from all parts of the world.

<![if !vml]><![endif]>
---
New product launch
<![if !vml]>

<![endif]>
The studio monitor Icon DT-6Aair was globally released at Musikmesse 2010 in Frankfurt, Germany in March.
Icon DT-6Aair incorporates advanced analog signal processing, high end drivers developed in Denmark in close cooperation with the supplier as well as wireless control of all user-settings in a complete 7.4 setup.
The new speaker is developed in very close cooperation with our Hong Kong partner Icon-Global who is also responsible for manufacturing and sales of the product. The monitor is the second in a new series of high performance / low priced products for the ambitious home studio or smaller professional studio or broadcasting facilities.
---
Radio in 3D – Part 2
DR, the national Danish Broadcasting Corporation has recently released a new web-site covering the fascinating world of 3D-sound. This is a follow up to the series of four broadcasts in December 2009 mentioned in a previous Newsletter.

The new web-site gives you a popular scientific introduction to the technique, simple advices on how to experiment on doing binaural recordings yourself and not least a comprehensive selection of references and web-links (Unfortunately only in Danish – but most of the references are in English)

<![if !vml]><![endif]>
---
In the media
<![if !vml]><![endif]>

If you want to take a look into development and production of high-end loudspeaker drivers we can recommend the feature 'Regular Work – Scan Speak' from the Danish regional TV-station TV/Midt-Vest. The photographer and journalist have visited schacoustics' supplier and partner Scan-Speak in Videbæk, Denmark and you will get insight into all aspects of development and manufacturing of high-end units – and even meet a lot of Mr. Jens Schönemann-Paul's former colleges from his time in Videbæk a few years ago.

Unfortunately the program is not subtitled in English but even foreigners may find the video from the production line and development facilities interesting.
Mr. Jens Schönemann-Paul has also become a 'movie star'. In an inattentive minute during Musikmesse 2010 he was caught by Simone Giacchetti, Product Manager from Esound, Italia for an improvised interview in the middle of the jumble. Esound is distributor of Icon-Global's products in Italy. You can enjoy the video on YouTube.
---
Web-site updated
At last we will like to inform you that our web-site has been updated recently.
To meet needs from our many foreign contacts the language has changed to English and you are now able to read all previous Newsletters directly from the web-site.
Med venlig hilsen / Best regards
Jens Schönemann-Paul
M.Sc.E.E. (acoustics)
technical consultant & owner
+45 69 10 32 74
+45 30 95 32 74
schacoustics aps
vester ringgade 18
DK-7600 Struer
denmark
<![if !vml]>

<![endif]>
(Please feel free to forward this mail to interested colleges – If you haven't signed up already please go to the schacoustics website.
Newsletters from schacoustics can always be unsubscribed by sending us an e-mail)