<![if !vml]>

<![endif]>
Newsletter – December 2008
Another year has almost passed and we are looking forward to a handful of days off celebrating the Christmas time.
Since sending out the last newsletter Schacoustics have been busy with very versatile jobs all over the world. The tasks have covered four continents and included e.g. high end automotive systems for renowned European companies, active loudspeaker designs of various kinds, small signal electronics and even room acoustic design in a new exclusive hi-fi shop in Malaysia.
On the threshold to the new calendar year we are still looking into a lot of new challenges within the exciting electro acoustical field.
---
New equipment

For calibration of acoustical measurement we have just bought a Brüel & Kjær Type 4231 Sound Calibrator. The new equipment fulfils the IEC 60942 Class 1 standard and we are now able to calibrate the acoustical measurement setup within ±0.2 dB in the Laboratory as well as in the field.

The listening room setup has been extended by more high end digital and analogue sound channels utilizing 24 bit / 192 kHz converters.

In the workshop the equipment have been complemented by various hand tools and electrical machinery to make the prototype work more efficient.

<![if !vml]><![endif]>
---
Wish you a great holiday time
We wish you and your family a Merry Christmas and the best of luck in 2009.
<![if !vml]>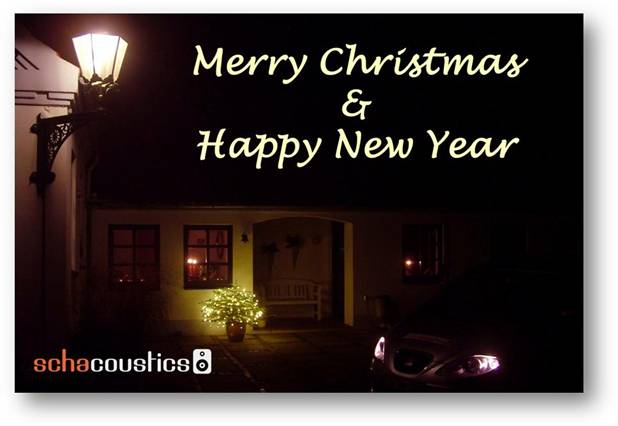 <![endif]>
The office will be closed from 23th of December until 5th of January 2009 – but we will be reading e-mails from time to time, so please do not hesitate to take contact in case of urgent matters.
Med venlig hilsen / Best regards
Jens Schönemann-Paul
M.Sc.E.E. (acoustics)
technical consultant & founder
+45 69 10 32 74
+45 30 95 32 74
schacoustics aps
vester ringgade 18
DK-7600 Struer
denmark
<![if !vml]>

<![endif]>
(Please feel free to forward this mail to interested colleges – Newsmails from schacoustics aps can always be unsubscribed by replying to this e-mail)